Thundercats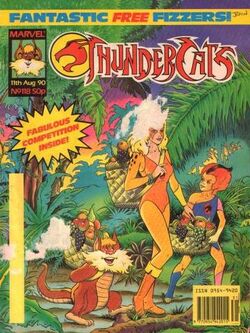 Thundercats # 118 is a comic book released by Marvel UK and is based on the original cartoon series.
WilyKat's Wish, part 2 of 3:
Written by Dwight Jon Zimmerman and Ian Rimmer

WilyKat starts to take charge as leader. He pushes the others to the limit with his demands and they are arguing just as a horde of Mutants appear. At that point, WilyKat realises he does not know how to use the mystic powers of the Sword of Omens and that they are in big trouble.
Assault on the Onyx Pyramid, part 2 of 2:
Written by James Hill

Thanks to Snarf, Lion-O is able to use the Sword of Omens and releases he fighting an illusion of the evil Mumm-Ra. However, there's the issue of the others and it is the Eye of Thundera shining the light of truth that reveals the true dangers behind the other illusions - illusions designed to take advantage of each 'Cats weakness (Cheetara - confined spaces, Panthro - pride, Tygra - vanity). Though they all overcome their struggles and escape just in time, their assault on the Pyramid was a failed one.
Free GiftEdit
A ThunderCats poster, which is an enlarged reproduction of the front cover. 
Notes of InterestEdit
Community content is available under
CC-BY-SA
unless otherwise noted.