Thundercats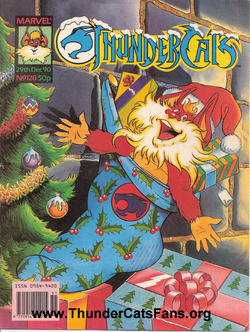 Thundercats # 128 is a comic book released by Marvel UK and is based on the original cartoon series.
Homecoming:
Written by Dwight Jon Tomlinson
Snarf is at the Lair alone, griping that he has to clean and prepare the huge Rammastide feast all by himself. Then, a traveling salesman named Clemuel Poontang shows up to try to sell him everything from a vacuum cleaner to a set of encyclopedias, only to make a huge mess of everything! The ThunderCats arrive, only to report the Tower of Omens has been completed ahead of schedule and that they've all been invited there for dinner anyway. So the mess doesn't matter! Everybody is feelng the Rammastide love, except for the saleman, who gets stuffed in a snowbank.
Father Snarf, part 1 of 2:
Written by Dwight Jon Zimmerman
Free GiftEdit
A ThunderCats mini-poster, which is an enlarged reproduction of the front cover.
Notes of interestEdit
Preview GalleryEdit
Community content is available under
CC-BY-SA
unless otherwise noted.