Thundercats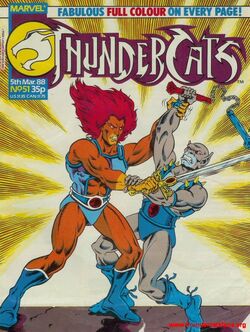 Thundercats # 51 is a comic book released by Marvel UK and is based on the original cartoon series.
Doomgaze, part 1 of 2:
Written by Steve Perry
Art by Jim Mooney, Mike Esposito, Jack Morelli & Petra Scotese
Ghost Machine, part 1 of 3:
Written by Ian Rimmer
Art by Martin Griffiths, Tim Perkins, Glib & Chris Matthews
While out hunting, Lion-O and Tygra come across an abandoned spacecraft. Before entering ship, a beam homes in on the Eye within the Sword and plucks it out. Lion-O and Tygra have no choice but to pursue it into the wrecked spacecraft. Inside, Tygra finds a video game of sorts about choices, and Lion-O gets pulled into a telescreen. Tygra leaps in to follow him.
Free GiftEdit
Notes of InterestEdit
Community content is available under
CC-BY-SA
unless otherwise noted.