Thundercats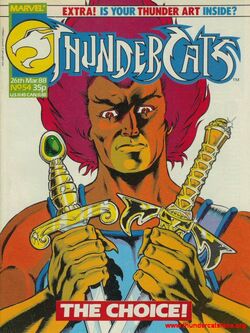 Thundercats # 54 is a comic book released by Marvel UK and is based on the original cartoon series.
Excalibur, part 2 of 2:
Written by Daryl Edelman
Art by Ernie Colon, Al Williamson, Rick Parker & Petra Scotese
Unforgettable Snarf:
Written by Ian Rimmer
Art by Martin Griffiths, Robin Bouttell, Mike Scott & Nick Abadzis
Lion-O and Snarf discover that the Mutants are tunneling towards the Thundercats Lair. While confronting their enemies, Snarf is hit on the head and develops amnesia, only remembering his name. After failing to stop the mutants, they attack the Lair. In that skirmish, Snarf is bopped on the head again and regains his memory. The Mutants are forced to retreat and everyone laughs at a bad joke in the end.
Free GiftEdit
Notes of InterestEdit
Community content is available under
CC-BY-SA
unless otherwise noted.