Thundercats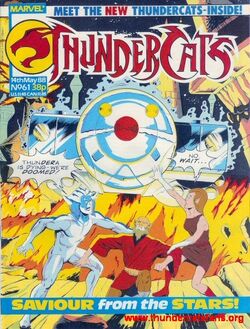 Thundercats # 61 is a comic book released by Marvel UK and is based on the original cartoon series.
Year of the Cat, Part 2 of 4:
Written by Steve Alan
Artr by Art by Elwood P. Dowdes, Stephen Baskerville, Glop & Weasel
Escape:
Written by Steve Alan
Free GiftEdit
Notes of interestEdit
The story called 'Escape' is a text based story and continues the adaptation of Thundercats HO! (TV Movie), which began in the previous issue.
Community content is available under
CC-BY-SA
unless otherwise noted.