Thundercats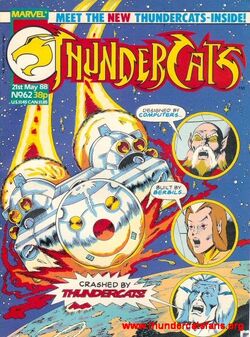 Thundercats # 62 is a comic book released by Marvel UK and is based on the original cartoon series.
Year of the Cat, Part 3 of 4:
Written by Steve Alan
Art by Elwood P. Dowdes, Stephen Baskerville, Glop & Chris Matthews
In this third installment, Slithe decides not to destroy the aged and weak Lion-O, thinking it unsporting. So he loads the ThunderCat Lord into the Fist Pounder and takes him to the Geyser of Life - where he'll restore Lion-O, then destroy him.
Meanwhile, the Thunderkittens and Lion-O have not returned to the Lair and it has the others' worry. They decide to set out to find him. Cheetara comes upon Slithe and Lion-O just as the reptile is about to reach the geyser. Cheetara attacks and both she and Slithe splash into the waters without Lion-O.
The other 'Cats manage to find the Sword of Omens, which is growling a warning. This suggests that Lion-O is in trouble.
Flying Blind:
Written by Steve Alan
Free GiftEdit
Notes of InterestEdit
The story called 'Flying Blind' is a text based story and continues the adaptation of the Thundercats HO! (TV Movie), which began in the previous two issues.
Community content is available under
CC-BY-SA
unless otherwise noted.