Thundercats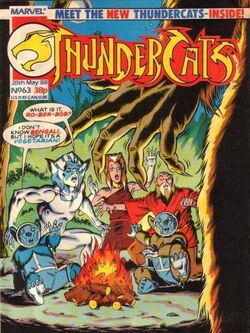 Thundercats # 63 is a comic book released by Marvel UK and is based on the original cartoon series.
Year of the Cat, Part 4 of 4:
Written by Steve Alan
Art by Elwood P. Dowdes, Stephen Baskerville, Glop & Weasel
In the conclusion to this part of the story, Cheetara and Slithe emerge from the geyser's waters youthful. Lion-O however, remains old. The others come upon the scene and wonder how to safely bring them back, thinking the cave and geyser options are too risky. Then, Jaga appears and tells Lion-O to use the sword, which fixes everything. Slithe, to pay them back for saving him, helps them safely mine the Thundrillium out of the Cave of Time with the Fist Pounder. But there's no time to celebrate because...where are WilyKit and WilyKat? 
Planetfall:
Written by Steve Alan
Free GiftEdit
Notes of InterestEdit
The story called 'Planet Fall' is a text based story and is an adaptation of Thundercats HO! (TV Movie).
Community content is available under
CC-BY-SA
unless otherwise noted.