Thundercats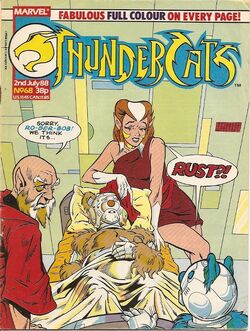 Thundercats # 68 is a comic book released by Marvel UK and is based on the original cartoon series.
Dr Dometone, part 1 of 4:
Written by Tom DeFalco
Art by Dwayne Turner, Dave Simons, Janice Chiang & Petra Scotese
Berbil Trouble:
Written by Steve Alan
Ro-Bear Bert is suffering from a fever brought on by the damp conditions. Ro-Bear Bob insists that he is restrained, revealing that at one time the Berbils were not the peace-loving, gentle race they are now. After nearly destroying themselves, they learned to curb their war-like instincts and transformed their appearance. However, he says they still sometimes lose control. Right on cue, Ro-Bear Bert goes on the rampage. After a fight, they capture him and he returns to normal.
Free GiftEdit
Notes of InterestEdit
This issue had panels previously printed in Thundercats (Star Comics) # 23
Community content is available under
CC-BY-SA
unless otherwise noted.