Thundercats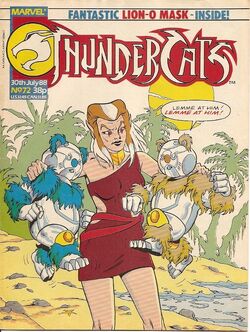 Thundercats # 72 is a comic book released by Marvel UK and is based on the original cartoon series.
Bad playmates, part 1 of 4:
Written by James Rose
Art by Jose Delbo, Dave Simons, Rick Parker, Petra Scotese
Vultureman has created robotic replicas of the Thunderkittens and he sends them off to Cats' Lair. Lion-O, meanwhile, is going to a harvest festival held by the Nai fisher folk, when he meets Jaga, who warns him not to base judgements on outward appearances. Back at the Lair, Wilykit and Wilykat greet the robots as new playmates until things take a turn for the worse. The robots take them prisoners and hand them over to Slithe.
The Final Battle:
Written by Steve Alan
Bengali despairs of ever leaving Destiny Atoll and tempers flare. Good things come out of the argument, for the Berbils go away and make a windmill, for which Pumyra provides the canvas, Bengali collects coconuts and Lynx-O makes himself a light shield.
Free GiftEdit
Notes of interestEdit
Community content is available under
CC-BY-SA
unless otherwise noted.