Thundercats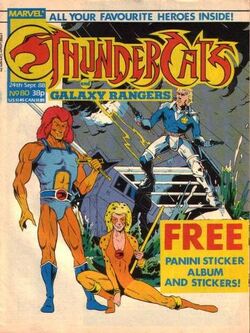 Thundercats # 80 is a comic book released by Marvel UK and is based on the original cartoon series.
Wilykat's Wish, part 2 of 3:
Written by Dwight Jon Zimmerman and Ian Rimmer
Art by Jim Mooney, Dave Harwood, Dozy & Euan Peters
WilyKat starts to take charge as leader. He pushes the others to the limit with his demands and they are arguing just as a horde of Mutants appear. At that point, WilyKat realises he does not know how to use the mystic powers of the Sword of Omens and that they are in big trouble.
The Luck Curse:
Written by John Gatehouse
Free GiftEdit
Free Panini sticker album and stickers
Notes of InterestEdit
Issue 80 is the second comic book to be shared by both the ThunderCats and Galaxy Rangers.
Community content is available under
CC-BY-SA
unless otherwise noted.