Thundercats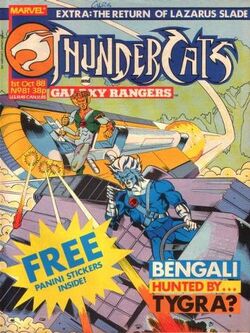 Thundercats # 81 is a comic book released by Marvel UK and is based on the original cartoon series.
Wilykat's Wish, part 3 of 3:
Written by Dwight Jon Zimmerman and Ian Rimmer
Art by Jim Mooney, Dave Harwood, Dozy & Euan Peters
WilyKat falls foul of Panthro for fooling around with the Sword of Omens. He goes off in a huff, sick of being treated like a child and saying that if he ever became leader, there would be some changes. Soon after, he meets Ilsa, last of the Dryads, who shows him the Waterfall of Wishes, telling him that its magic waters make wishes come true. WilyKat dives in and emerges an adult. He returns home to find that Lion-O is now the cub being told off by Panthro and he is leader of the Thundercats.
Runaway:
Written by Steve Alan
Free GiftEdit
Notes of InterestEdit
Issue 81 is the third comic book to be shared by both the ThunderCats and Galaxy Rangers.
Community content is available under
CC-BY-SA
unless otherwise noted.