Thundercats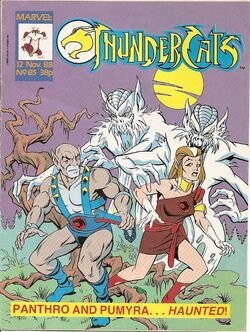 Thundercats # 85 is a comic book released by Marvel UK and is based on the original cartoon series.
Sixth Sense, part 3 of 4:
Written by Dwight Jon Zimmerman & Ian Rimmer
Art by Jim Mooney, Dave Elliot, Dozy & Euan Peters
Ghost Story:
Written by Steve Alan
Panthro tells Bengali and Pumyra a story about ghosts he encountered near Cat's Lair, called the Si-Tare. Out hunting next morning, Pumyra stumbles into the Sacred Sanctum of the Si-Tare. She is being watched by a Mutant called Kontos Ghoulshadow, who plans to take her captive. The Si-Tare step and help her without her knowing. They all go home and later that night Pumyra declares that she doesn't believe in ghost stories.
Free GiftEdit
'Sixth Sense' is a retelling of a TV episode with the same name.
A ThunderCats mini-poster, which was originally the cover artwork for Thundercats (Marvel UK) - Issue 64.
Notes of InterestEdit
Community content is available under
CC-BY-SA
unless otherwise noted.