Thundercats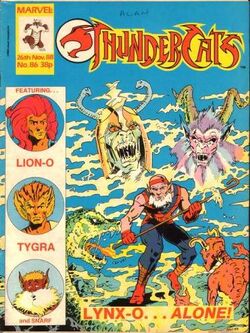 Thundercats # 86 is a comic book released by Marvel UK and is based on the original cartoon series.
Sixth Sense, part 4 of 4:
Written by Dwight Jon Zimmerman
Art by Jim Mooney, Dave Elliot, Dozy & Euan Peters
Blind Panic:
Written by Steve Alan
Lion-O is suffering some self-doubts and Lynx-O sympathises, as he too has concerns what would happen should he run into trouble whilst out alone. Sure enough, he has to face his fears and emerges all the stronger for his ordeal.
Free GiftEdit
Notes of InterestEdit
Community content is available under
CC-BY-SA
unless otherwise noted.