Thundercats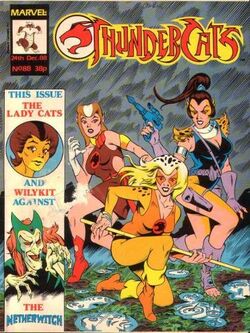 Thundercats # 88 is a comic book released by Marvel UK and is based on the original cartoon series.
Games Without Frontiers, part 2 of 3:
Written by Andy Lanning & John Carnell
The Netherwitch:
Written by Steve Alan
It's a short text story with numerous and glaring typos. The gist of it is, Cheetara is angry that Lion-O made her, Pumyra and WilyKit stay at the Lair while the men investigated why such a fierce storm was raging. They all suspected Mumm-Ra as the cause. But once Lynxana arrives and explains it's the Netherwitch on the Hovercat causing the storm that threatens to wash the Lair away, Cheetara runs counter to the wind and stops it.
Free GiftEdit
Notes of InterestEdit
Community content is available under
CC-BY-SA
unless otherwise noted.