Thundercats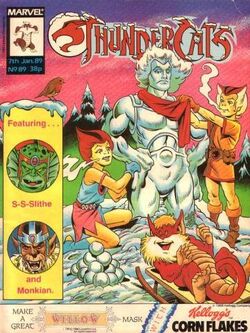 Thundercats # 89 is a comic book released by Marvel UK and is based on the original cartoon series.
Games Without Frontiers, part 3 of 3:
Written by Andy Lanning & John Carnell
Art by Andy Wildman, Bambos & Louise Cassell
Lion-O faces off against Hachiman. Though technically fighting for the Mutants' team, Hachiman did so only to test his skills against such a worthy fighter as Lion-O. Lion-O ends up losing after the Mutants had switched his fencing sword with one weaker than Hachiman's. Angered, he was going to summon the Sword of Omens to show the Mutants who is really the better sword fighter but Jaga intervenes, urging the Lord not to cheat to win. Honorably, Lion-O concedes defeat to Hachiman. But it's not over as the Mutants attack and Mumm-Ra makes a grab for the Sword. However, the Thundercats prevail in the end.
Snow Surprise:
Written by Dan Abnett
It's Rammastide - the Third Earth version of Christmas - and the Thunderkittens are playing and building snow men in the newly fallen snow. Later that evening, while the Rammastide feast and celebration is going on in the Lair, the Mutatns are outside plotting an attack. They come upon snowmen that are made in the likeness of the Thundercats and their allies. But when they go to smash them, the Thundercats emerge causing Slithe to mutter, "Happy Rammastide everyone?!"
Free GiftEdit
Notes of InterestEdit
Community content is available under
CC-BY-SA
unless otherwise noted.