Thundercats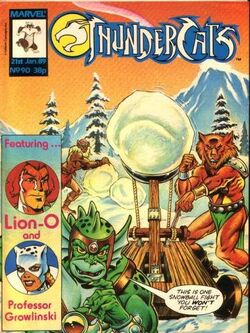 Thundercats # 90 is a comic book released by Marvel UK and is based on the original cartoon series.
Country of the Blind, part 1 of 2:
Written by Steve Alan
Dougie Braithwaite, Stephen Baskerville, Bambos & Euan Peters
In this adventure, a thunderstorm approaches at nightfall, and Lynx-O is sorrowful that he can't enjoy the wonderous light display with the others. The blind ThunderCat wanders off alone to think, only to fall into a chasm that opens beneath him. He lands in a strange, underground land where all its inhabitants are blind. After saving one of the natives from the dreaded Tongue-a-saurus, he's considering staying with these people as he feels a kinship with them due to their mutual handicap. Meanwhile, Lion-O awakes in darkness only to quickly realize he and the other ThunderCats are blind - presumably from the lightning the night before.
Kingdom of the Ice Cats:
Written by Steve Alan
While the Mutants are bombarding the Lair with huge balls of snow intent on burying the fortress, Lion-O is out wandering around Hook Mountain. He went to meet Snowman for a hunting trip and out of pride went ill prepared - then a blizzard hit. Alone, lost and freezing, Lion-O feared he was suffering from snow madness when what appeared to be a female Thunderian approached. She turned out to be real and her name was Professor Growlinski. She and her snow leopard brother helped Lion-O get back to the Lair and drive back the Mutants.
Free GiftEdit
Notes of InterestEdit
Community content is available under
CC-BY-SA
unless otherwise noted.