Thundercats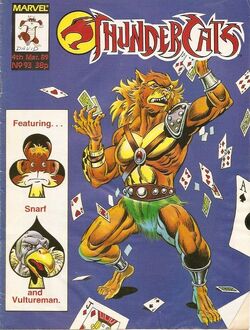 Thundercats # 93 is a comic book released by Marvel UK and is based on the original cartoon series.
Astral Prison, part 2 of 3:
Written by Zimmerman & Rimmer
Art by Wetherall, Baskerville, Bambos & Euan
Mightier than the Sword:
Written by Steve Alan
Lion-O and Snarf are out playing 'Kick the Bucket'. It's getting late and Snarf worries about the Mutants. Lion-O, typically confident says that the Mutant hasn't been hatched yet that's a match for the Sword of Omens. Sure enough, who should appear but Slithe and his cronies. Lion-O and Snarf are overcome by sleeping gas and taken to Castle Plun-darr. Lion-O awakes to find the Sword gone. Snarf meanwhile is hanging above a cauldron of slime and not doing much about it. Summoning up his strength, Lion-O breaks free of his prison and rescues Snarf. After some soul searching about not being much good without the Sword of Omens, Snarf reassures him and tells him he has the heart of a lion.
Free GiftEdit
Notes of InterestEdit
The story called Astral Prison is based on the televised episode of the same name.
Community content is available under
CC-BY-SA
unless otherwise noted.