Thundercats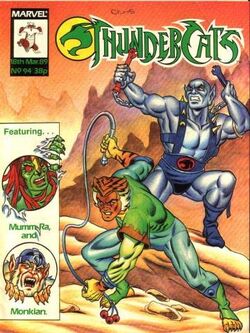 Thundercats # 94 is a comic book released by Marvel UK and is based on the original cartoon series.
Astral Prison, part 3 of 3:
Written by Written by Zimmerman & Rimmer
Art by Wetherall, Baskerville, Bambos & Euan
Clockwork Chaos:
Written by Ben Abnett
Two Warrior women, Betha and Zoe, are stuck on-top of Fire Rock Mountain, after their hot air balloon crashes. With a storm brewing, Lion-O sends Tygra and Panthro to help them. Mumm-Ra sees this as the perfect time to launch an ambush and sends Monkian with a device that looks something like an old-fashioned record player, which, he claims, will produce an endless stream of mechanical warriors programmed to attack the first thing they see. The plan works well and Tygra and Panthro find themselves trapped between the sheer cliff and the robots. Betha and Zoe come to the rescue by sending down a rope and Tygra hits on the bright idea of using their balloon to escape. They drift away, leaving the robots to turn on Monkian.
Free GiftEdit
Notes of InterestEdit
The Astral Prison story is based on the televised episode of the same name.
Community content is available under
CC-BY-SA
unless otherwise noted.