Thundercats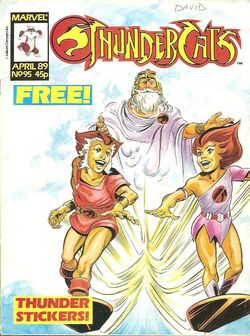 Thundercats # 95 is a comic book released by Marvel UK and is based on the original cartoon series.
Wilykat's Lair:
Written by Andrew Brenner
WilyKat accidentally injures Snarf, who gets told off by Lion-O and goes off in a huff. He finds himself a cave, which he calls 'WilyKat's Lair'. What he doesn't know is that the cave walls contain high amounts of Thundranium ore. His strength is quickly sapped and he falls asleep. The other Thundercats meanwhile are concerned when he does not return home and go out in search of him. Panthro finds WilyKat, but falls victim to the effects of Thundranium too. Lion-O consults the Eye of Thundera and sees the plight of his friends. Lion-O ventures into the cave, with some Thundrillium crystals strapped to his chest and the Sword of Omens at hand. He rescues his friends, but the positive energy of the Sword has destabilised the structure of the cave. He makes it out just in time and all is right with the world!
Trick or Treat:
Written by an uncredited author
Someone is playing tricks on the Thundercats, and you'd be right in guessing it was the Thunderkittens. They think they have the perfect alibi, but good old Jaga tells tales on them!
'World in Chaos, part 2 of 6
Written by Simon Furman
Free GiftEdit
ThunderCat Stickers
Notes of InterestEdit
Community content is available under
CC-BY-SA
unless otherwise noted.