Thundercats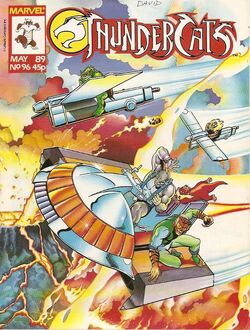 Thundercats # 96 is a comic book released by Marvel UK and is based on the original cartoon series.
Friends in Need, part 1 of 3:
Written by Dan
Art by Art Wetherwell, Brian Williamson, Hel & Euan Peters
Fright on Fire Mountain:
Written by John Freeman
Tygra has been captured by the Mutants and thrown into a pit of snakes. Panthro heads out on the Thunderclaw with Snarf, taking him because he is almost immune to snake bites. It's a race against time because the pit is in the path of a lava flow from Fire Rock Mountain and an eruption is expected soon. Snarf goes into the pit, tells Tygra the snakes are harmless and they escape. The Mutants appear, but Panthro sees them off in the Thunderclaw and they head home, happy in a job well done.
World in Chaos - Judgement Day, part 2 of 6:
Written by Simon Furman
Free GiftEdit
Notes of InterestEdit
Community content is available under
CC-BY-SA
unless otherwise noted.