Thundercats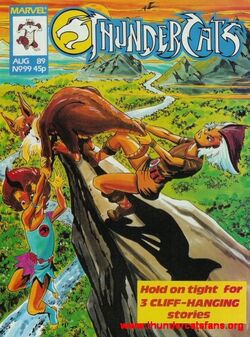 Thundercats # 99 is a comic book released by Marvel UK and is based on the original cartoon series.
Through A Dark Glass, part 1 of 2:
Written by Gerry Conway
Art by Rodney Ramos, Frank Springer, Rick Parker, Petra Scotese
Dangerous Games:
Written by Sophie Heath
World in Chaos, part 6 of 8:
Written by Simon Furman & Ian Rimmer
Art by Bert Hill, Dave Harwood, Annie H & Stuart Place
Free GiftEdit
Notes of InterestEdit
Through A Dark Glass was originally printed in Thundercats (Star Comics) # 24.
Community content is available under
CC-BY-SA
unless otherwise noted.