Tower of Traps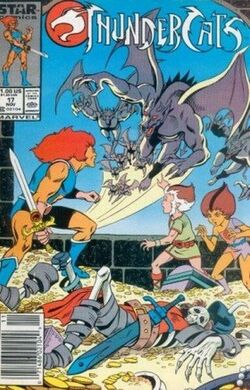 Production
Issue
17
Released
November 1987
Pages
32
Original Price
$1.00
Writer(s)
Dwight Jon Zimmerman
Penciler(s)
Jose Delbo
Inker(s)
Al Williamson
Colourist(s)
Petra Scotese
Letterer(s)
Ron Zalme
Editor(s)
Don Daley & Tom DeFalco
Chronology
Previous
The Queen of Eight Legs (US Comic)
Next
Pumm-Ra (US Comic)
When Wilykit and Wilykat rescue a local villager from a horde of gargoyles they soon find themselves on a quest to discover the mysteries and dangers that lie within the foreboding Black Tower.
This comic was based on the episode "The Tower of Traps", by Leonard Starr.
Community content is available under
CC-BY-SA
unless otherwise noted.