Jurassic World: Dominion Dominates Fandom Wikis - The Loop
Play Sound
Tygra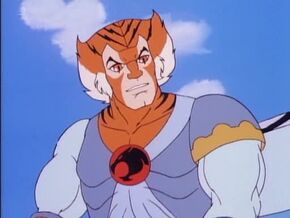 For the article about the 2011 version of this character, see Tygra (2011).
Tygra is one of the older, more experienced ThunderCats. He is head of the ThunderCat council and next in line for the title of "Lord of the ThunderCats" in the event of Lion-O's demise. A trained architect, he designed Cats Lair, and many of the other structures built by the team. He is also a scientist and a chemist. He possesses special mind powers, allowing him to conjure up illusions and make others believe that something is happening. Using the power requires a great deal of advanced preparation and it drains him. Because of that, he rarely uses it.
Tygra goes through the most changes in his age. He is aged into an old man in the Cave of Time on Third Earth. He is later dropped into the Canyon of Youth on New Thundera twice. He also fell victim to the addictive fruit produced by Silky (Mumm-Ra in disguise) and the addictive power of the Keystone as well as become hypnotized by the Vampire Mermaid.
Weapons and Equipment

[

]
His weapon is the Bolo Whip, which he wraps it around himself when he wants to become invisible. It also shoots energy blasts from the three-pronged tip. It retracts into a compact six-inch sheath. The whip can be extended and made to act more solid.
Quotes

[

]
"Strength alone is never enough to succeed."
"Good is not that easily defeated by evil."
"Rules are only meaningful if people agree to follow them. Otherwise, they're just words."
"Now you see me... now you don't!"
"Never expect a favour for a favour."
Original Concept Designs

[

]
Appearances

[

]
Merchandise

[

]
The following toys and figures based on the character were produced by various Toy companies
LJN and affiliate companies

[

]
LJN Tygra
(Old)
LJN Tygra
(Young)
Rainbow Toys
Tygra
Playful Tygra

Macplay Tygra
Miniatures

[

]
| | | | |
| --- | --- | --- | --- |
| | | | |
| Kidworks Tygra | Unitoys Tygra | Glasslite Miniature Tygra | Papeleria Francesa Tygra |
Statues

[

]
Gallery

[

]