William Overgard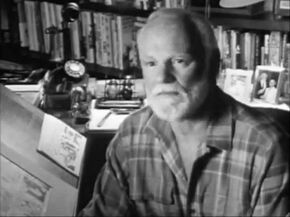 William Thomas Overgard was an American cartoonist and writer. As a child, he was a huge fan of the comic strip known as "Terry and the Pirates" and one day he even wrote a fan letter to Mitlon Caniff, the creator of the strip and sent him samples of his own drawings. Not only did Overgard receive a reply but encouragement from Caniff, something which would inspire the young Overgard to continue his artistic endeavors. The two would continue to correspond with each other all through Overgard's high school years as well as his time serving in the Navy during World War II.
After the war, Overgard moved to New York in 1948 where he worked with his chiildhood hero and friend, Caniff. Overgard assisted Caniff on his cartoon strip "Steve Canyon" as well as working on some of his own creations and freelancing in ghosted scripts and animation.
In 1954, Overgard landed the syndicated gig of providing the artwork for the comic strip "Steve Roper" after the original artist left. After a few years, Overgard introduced a new character called Mike Nomad in the strip and following his success and popularity, the stip was eventually renamed to "Steve Roper and Mike Nomad". Overgard would continue to draw this strip for over thirty years.
During the 1970s, Overgard wrote scripts for the "Kerry Drake" comic strip. After its end in the early 1980s, he created a new comic strip called "Rudy" about a talking chimpanzee who previously had a successful Vaudeville career. Rudy, distributed by United Features Syndicate, ended its run in 1985.
During his time as a comic strip artist and writer, Overgard also wrote a number of thriller novels and screenplays. He was then hired by Rankin/Bass to write stories for their animated show ThunderCats.
His father, William A. Overgard, was a silent-movie actor.
He loved antique cars and motorcycles.
During the 1950s, he shared a studio in the Greenwich Village neighborhood of New York City with artists and future ThunderCats head writer Leonard Starr.
He was a member of the National Cartoonists Society
Community content is available under
CC-BY-SA
unless otherwise noted.